Everything From a Single Source
Manufactured by a strong team.
We are a company that is brimming with ideas, a production and development hub, a distribution centre, and service partners.
At Perndorfer everything is manufactured under one roof. As a family-run company, we always do our best. This is evident in our dealings with our clients, but, above all, in our products which are durable, long-lasting, and produced entirely in our production facility in Kallham. All of these factors have made our products a reliable partner for many years.
Our company is family-owned and has ISO:9001 certification. At our location in Kallham (Upper Austria) we not only assemble, but also manufacture 90 percent of our parts ourselves.
We build prototypes and deliver machines that are fitted exactly to client needs.
We help the environment and help you save by continually refining our products.
Our products can be viewed and tested in our new technology centre Perndorfer Cutting World.
If you have specific requests, we are happy to give advice on site.
We look at the bigger picture and offer you comprehensive solutions to problems.
You can count on our 24-hour service.
One call is all it takes, and we'll send help within a day.
We will train you and your employees. Be it in software, cutting applications, or pump service .
Perndorfer – A Family-Run Company
Your committed partner for the highest quality.
Everything great once started out small. This is also true of Perndorfer Maschinenbau, which developed from a one-man metalworker shop founded in 1985 into one of the most innovative production operations for waterjet cutting machines and special machines.
The values for which company owner Franz Perndorfer and his team stand have remained the same: reliability, innovative spirit, flexibility, highest quality, and the desire to find a solution to any problem.
As a result, the company has a diversified product range that includes:
Standard machines
Prototype construction
Comprehensive solutions
Bespoke Machines (Special Machines)
Trainings
Specific advice on site
24-hour service
The familiar atmosphere in the whole team is reflected in its commitment. As a dynamic company that acts with foresight Perndorfer offers its team – be it in the office in the factories – the option to develop themselves further. We know that our success is based on our qualified employees.
The familiar atmosphere in the whole team is reflected in its commitment. As a dynamic company that acts with foresight Perndorfer offers its team – be it in the office in the factories – the option to develop themselves further. We know that our success is based on our qualified employees.
Ground-breaking for the construction of Perndorfer's demonstration centre Cutting World. Production area expanded by 500 m² at the Kallham location. Starting in 2020, innovation is going to be top priority at the Cutting World.
Development, production, and presentation of probably the most energy-saving and most efficient pump in the world, the Servo-Jet4000.
New design and enhanced technology for the WJC machines.
This year at the "Schweißen und Schneiden" trade fair in Essen Perndorfer presents the new electronic beam cutting technology (ESS) which is the result of three years of research and development work in cooperation with the Leibnitz University Hannover.
Development and production of the first tube cutting machine that uses waterjet.
Company name change: The individual company Franz Perndorfer becomes Perndorfer Maschinenbau KG and is given a new corporate identity. The corporate slogan "Your committed partner for the highest quality" is coined. But this guiding principle has been followed since the company was founded. It is important for us to manufacture solid and high-quality products with commitment and dedication.
Production area in Kallham expanded by 1,500 m2.
Perndorfer presents its waterjet cutting machines at the "Intertool" trade fair in Vienna.
Construction of the first waterjet cutting machine.
Company foundation. In the one-man metalworker shop the first special machine, an ECG electrode production machine, was made in 1986 one year after the founding.
Sign up for the newsletter
Your personal information will not be shared with third parties! You can unsubscribe from the Newsletter at any time. You will find more information in our Data Privacy Policy
The collaboration with the Perndorfer team is one main reason for our success! That is why we are endeavoured to create an attractive work environment where each person has development opportunities. Qualified employees are the basis for success and innovation. We offer remarkably interesting and diverse jobs and are always happy to hear from motivated applicants.
Do you want a job with a future?
We are always looking for suitable employees. We offer interesting areas of responsibility and the opportunity to help shape innovations.
sound training
special apprenticeship programme
quick learning progress as a result of practical experience
visible results
own money, many social benefits
particularly good career opportunities
advanced training possibilities
great work atmosphere and nice, experienced colleagues
• possibility of apprenticeship with "Matura" (high school leaving certificate) for even more opportunities
During an open house you can familiarise yourself with the skilled trades at Perndorfer. Those interested are asked to send a cover letter with transcript, CV, and a picture by the arranged deadline. An interview makes the decision easier for both parties. And there is nothing more in the way of you starting your apprenticeship at Perndorfer!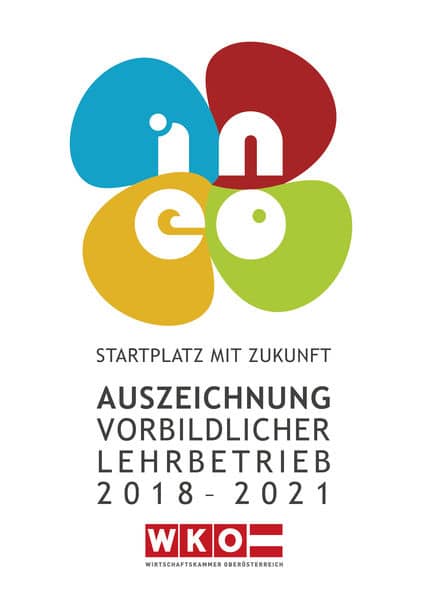 "Exactly what I was looking for: an interesting job! I'm always right there, always live!"
"I like the varied work in a team. I was involved in the work process from the start. Learning by doing! "
"I enjoy work and I earn my own money with it. And what I particularly like: I am valued with my work and I belong to it! "
"I work on the manufacture of precise parts, from the blank to the end product. My felicitous sample work could be installed immediately! This makes me feel proud! "
Blechexpo Stuttgart
27. - 29.10.2021
Visit us during the 15th trade fair for sheet metal working. Find out more about our latest products and innovations on site.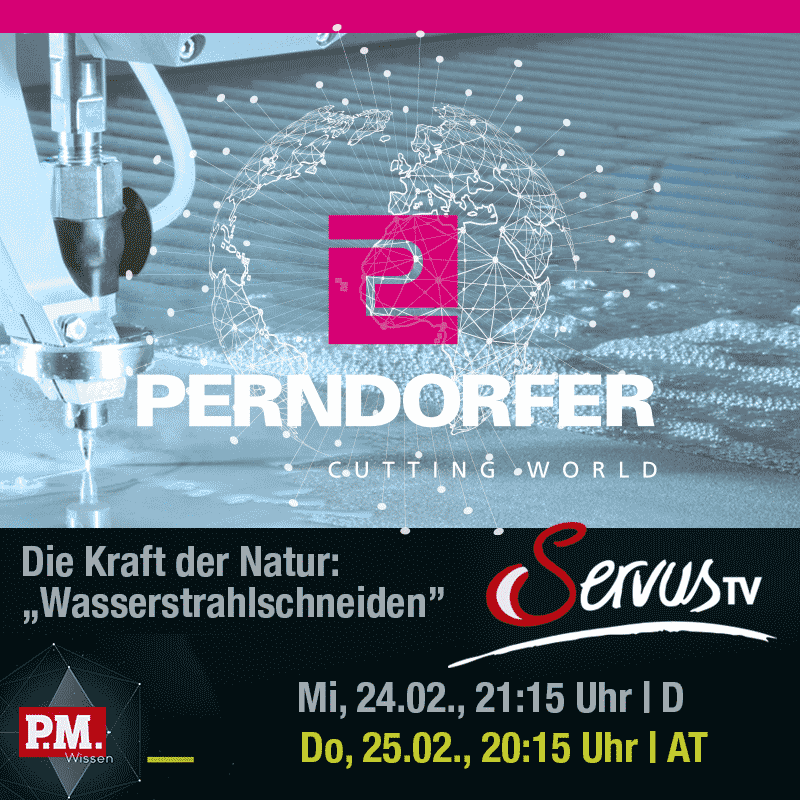 "How can water cut steel? There is a machine in Upper Austria that can cut steel with water – it can cut seven centimeters in just one minute. The water slides through the steel like butter: a so-called water jet cutting system."
The austrian TV-Channel 'ServusTV' was our guest with the format 'P.M.Wissen' and shot on the subject of water jet cutting in our company.
(At min 29:40; this TV-report is in german)
Our new demonstration and training centre right in Kallham makes waterjet cutting come alive on 220 m2:
Nehmen Sie an Schulungen und Workshops teil.
Überzeugen Sie sich von den neuesten Perndorfer Technologien mit der Hochdruck-Peripherie von Hapro Technik.
Lassen Sie Testschnitte durchführen.