Everything From a Single Source
Best technology with the best service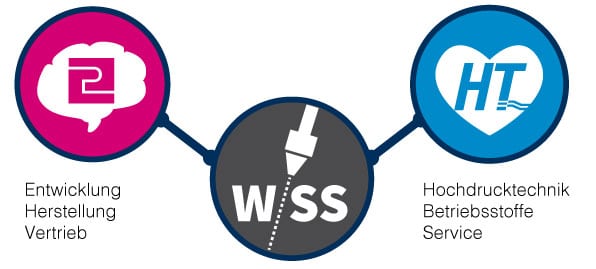 Perndorfer Maschinenbau and Hapro Technik – our collaboration is your advantage.
Perndorfer Maschinenbau and Hapro Technik – our collaboration is your advantage. Hapro Technik grew out of Perndorfer. It looks after
high-pressure technology,
material supply (like the abrasive),
water treatment,
wastewater treatment
service
At Perndorfer, after-sales service is not something that just happens in passing. At Hapro Technik it takes on a special significance. While Perndorfer focusses on the development and machine construction, the HT Team provides you with knowledgeable advice and everything you need to cut effectively.
Perndorfer and Hapro Technik – we have the same address, speak the same language, and work to your advantage!
Details and information about all our partner's products and services are available at www.haprotechnik.com.
We also operate production machinery which is why we know exactly what makes service efficient.
Personal consultation: Our support starts in the decision and implementation phase. Our goal is for you to find the right machine for your projects. Training: We place tremendous importance on comprehensive training. That is the basis for you to exploit the entire potential of the machine. In addition to learning about control and the CAD/CAM programme with alternating theoretical and practical units, the mechanics and high-pressure technology are also dealt with in-depth. As the client you are able to do maintenance work independently. Telephone tech support/remote maintenance: In the event of any questions or technical difficulties our knowledgeable technicians are available to offer assistance and advice. For remote maintenance and programme updates we usually use the remote maintenance tool TeamViewer. Service: If telephone support for technical problems does not lead to the desired result, a technician will be sent to you within 24 hours after requesting one (except Sundays and holidays). Hochwertige Ersatzteile: At Perndorfer and Hapro Technik you only receive high-quality original spare parts. Quickly and at a fair price. We stock the majority of all the wear parts. Moreover, we can manufacture a host of individual parts for our machines ourselves or purchase them from renowned suppliers. This means that the availability of spare parts is ensured for an exceptionally long time.
Our machines are manufactured 100 % at the company's location in Kallham (Austria). Even the spare parts are made in-house. A few of the components come from European brand suppliers. This is what makes a Perndorfer waterjet cutting machine sustainable, long-lasting, and low maintenance.

Perndorfer's special machines are manufactured exclusively at the company's location in Kallham (Austria).
Our special machines are usually not duplicated in the world and they are used for decades.
Thanks to our in-house production we can react quickly and reproduce various individual parts and in the usual quality clients have come to expect from us.
Technical problems are pinpointed and solved over the phone first or as required with remote maintenance.
If this does not lead to the desired result, a technician will be sent to you after requesting one (except on Sundays and holidays) and the problem will be resolved (except on Sundays and holidays). It goes without saying that we also maintain the special machines.
Our sturdy machines together with this exceptional level of service will give you peace of mind for decades.

Best technology with the best service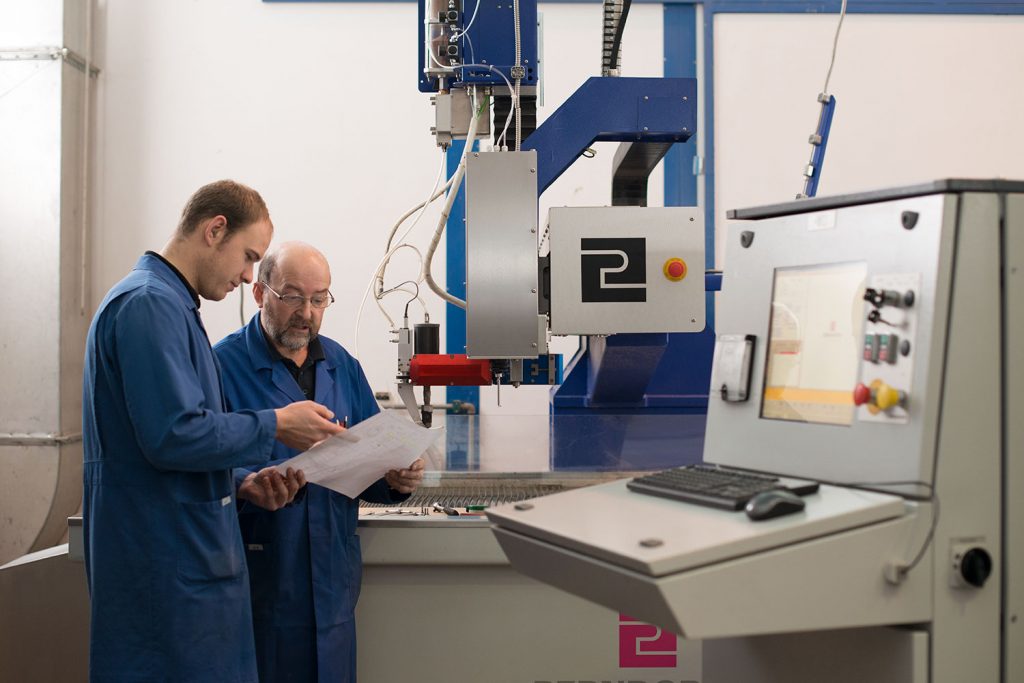 We make old units and machines "retrofit". Because equipped with new technologies and components they meet the full requirements of modern production processes in no time.
Thanks to this converting or retrofitting we update older units to the latest technology. This increases productivity, prolongs the service life, conserves resources, and saves money. Retrofitting costs much less than a new purchase.
One example is the installation of a new control elements or of components for which there are no more spare parts.
Lassen Sie sich doch direkt von der Qualität unserer Arbeit überzeugen: Machen Sie vorab einen kostenlosen Testschnitt in der
Perndorfer "Cutting World"!
Die beigestellten Schneidmuster können wir nach Ihrer Anweisung mit beliebig vielen verschiedenen Qualitätsstufen ausführen.
Mit dem Ergebnis sind wir gemeinsam in der Lage, für den Schneidauftrag
die  Schneiddauer
die Kosten sowie
diverse andere Parameter (wie z. B. erforderliche Abrasivmenge usw.)
zu ermitteln.
Zur Terminvereinbarung füllen Sie bitte dieses Formular aus!
Let yourself be convinced of our works quality: Make a free test cut in the
Perndorfer "Cutting World"!
We can cut the patterns you provide as per your instructions with any number of different quality levels.
With the result both we and the client are in a position to determine
the cutting duration,
the costs,
and many other different parameters (such as required amount of abrasive and so on)
Please fill out the form below for an appointment!